Sugar Bay Is The Place To Be!
Sugar Bay re-opened in December 2020 and we ran five very successful holiday camps. Many of our recent campers have said that, despite all the new protocols, these camps have been one of the best experiences of their lives! We have successfully hosted Uplands College and Clifton Preparatory School, Nottingham Road the past two weeks. And we look forward to hosting Westville Girls High next week. We are especially looking forward to our upcoming holiday camps in April/May 2021. There is no better time or place for your child to relax, reboot, unwind and escape the emotional stresses and technology overload of the last year. We can't wait to welcome your child at camp!
Why Kids Need A "Break" From Covid
Children are currently under huge physical, emotional, social and physiological stress. With isolation, over-reliance on screens, lack of sports and play and prevailing fears, experts are reporting an increase in behavioral, academic and emotional problems including anxiety, low grades and depression. Follow the link to read how our camp programs and activities are designed to support the emotional, physical and social development of children:

READ MORE HERE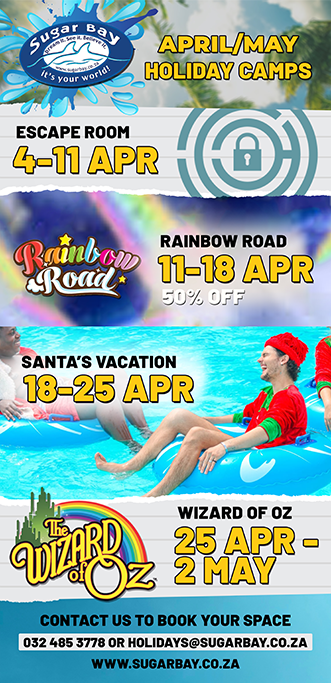 Upcoming April and May 2021 Holiday Camps

The April/May school holidays are coming up soon. If you're wondering what to do with your kids, there is still time to book their stay at the best children's paradise in South Africa. We have unique and exciting themes for each of our upcoming holiday camps. Places are limited and filling up quickly, so call us now to reserve a spot.
The dates of these camps are as follows: 4 - 11 April 2021 (7 days):
Escape Room 11 - 18 April 2021 (7 days):
Rainbow Road (Save 50%) 18 - 25 April 2021 (7 days):
Santa's Vacation 25 April 2021 - 02 May 2021 (7 days):
Wizard of Oz
18 - 25 April 2021 (7 days):
Indigo Warrior Course

Read more about these themes and view the rates for each camp. You can either Book Online or give us a call on 032 485 3778.

BOOK ONLINE NOW

VIEW OUR RATES

Covid-19 Safety Protocols

At Sugar Bay, every child's health and safety have always been and will continue to be our number one priority. We will do everything in our power to protect your child emotionally as well as physically. We have always had very strict hygiene and safety protocols in place to reduce the risk of infections at camp. With the new Covid-19 regulations, these have been expanded so we can ensure the safety and well-being of all our staff and guests.

CLICK HERE TO READ MORE ABOUT OUR COVID-19 SAFETY PROTOCOLS

Indigo Warrior Course
The first step to becoming a counselor at Sugar Bay. The Indigo Warrior Course is a unique certification program specifically designed for teenagers who want to spend one-week learning new life skills and challenging themselves. They need to be mentally mature, physically capable, and personally committed to completing the 7-day course and examinations. This is a one-week course that is currently scheduled to run four times a year, one per holiday season. If the participant shows exceptional promise during the Indigo Warrior Course they may be invited to attend the Counselor Teacher Training Course in that subsequent week.
Upcoming Indigo Warrior Course Dates:
18-25 April, 27 June - 4 July, 8-15 August, 11-17 December, 27 December - 3 January 2022

MORE INFORMATION HERE

International Academy
Our intensive programs are jam-packed with travel, adventure, friends, certifications, and an unforgettable learning experience. It's going to cover all the stuff you wish you were taught but never were. Launch a business. Surf the Wild Coast. Forge your own knife. Hike through a Big 5 Wilderness Reserve. Learn to scuba dive. Go boating with hippos. Spin fire. Refurbish a tractor. Learn traditional Zulu dancing. Practice welding and, so much more! Who wouldn't want to take a year off to travel and discover their interests and strengths?

Upcoming 3 Month MasterClass Dates:
6 June - 28 August & 12 September - 4 December

Bookings for our 2022 Gap Year Odyssey Program are open!
MORE INFORMATION HERE


Book Your School For a Tour
Our school tours are tailor-made to balance educational study and fun activities, ensuring that learning is done in an interesting and memorable way. Send us your curriculum and our team of creative and academic managers will tailor-make a program just for your school. We have luxurious accommodation for both teachers and students. We can cater for up to 200 learners. Teachers stay in their own luxurious 3-star teacher lodge with a mini-bar, DStv and heated pool. Teachers can chill out on their own private deck, take a stroll on the beach, cruise on the lagoon or join in on the fun camp activities while our staff takes care of everything. Contact Carline for more information: 032 485 3778 or email tours@sugarbay.co.za.
MORE INFORMATION HERE

Your Child's Safety Is Our First Priority!

It is very important to us that, when your child is in our care, you can relax in the knowledge that your children will be safe and healthy while having the time of their lives. We want your child to leave with a greater sense of personal efficiency, a broader outlook on life and skills to succeed in the world.